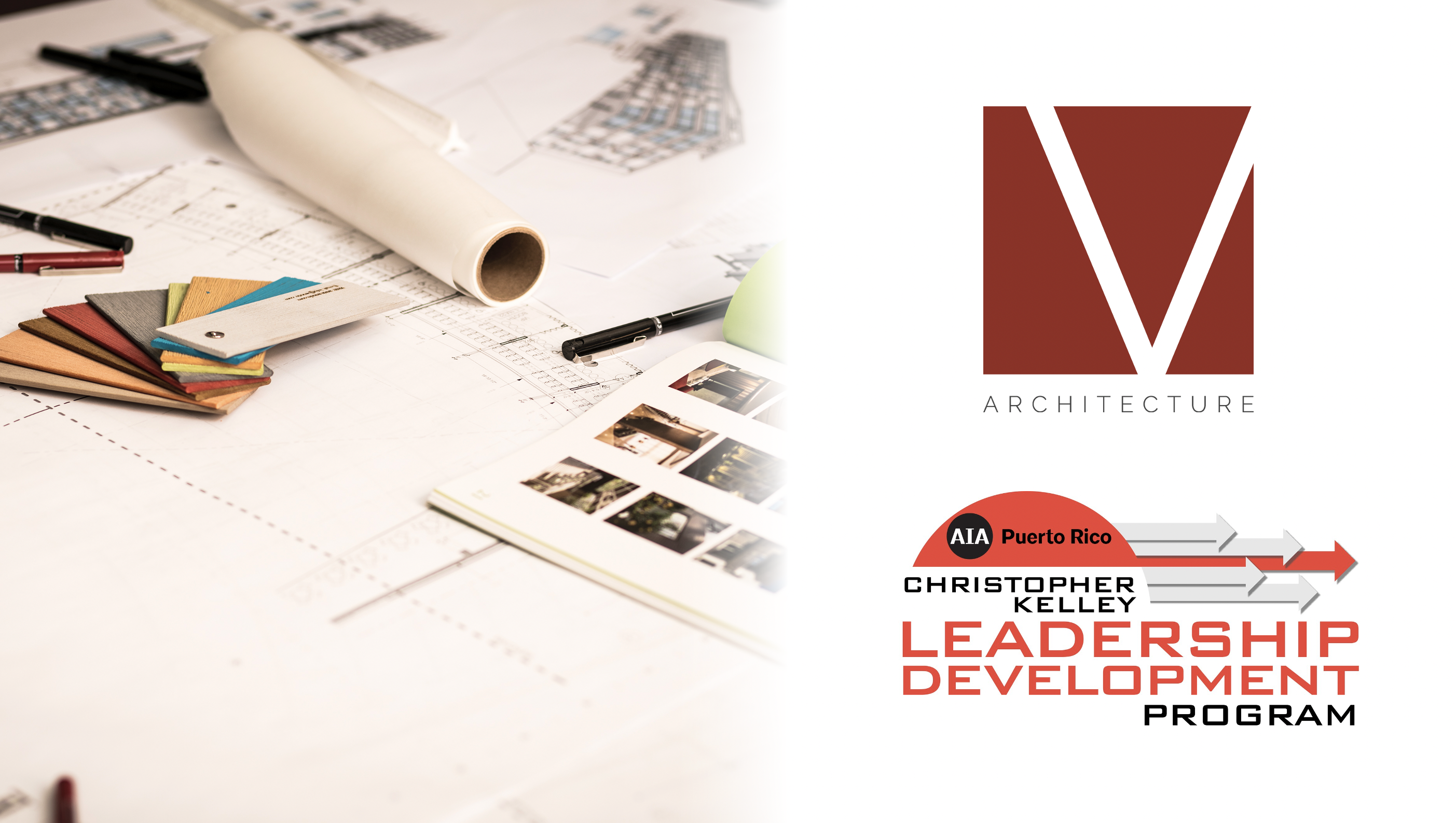 The V Architecture Team debuts at the Christopher Kelley Leadership Development Program by AIAPR
As one of the leading architecture firms in Puerto Rico, it's no surprise that V Architecture is constantly at the forefront of the most innovative local programs, helping to forge a new generation of leaders in design. One of these prestigious professional advancement programs is the Christopher Kelley Leadership Development (CKLD) Program by the Puerto Rico Chapter of the American Institute of Architects (AIAPR). The participants for the 2022 – 2023 inaugural class have been announced recently and we are beyond thrilled to announce that 5 of our team members at V Architecture have been selected.
The year-long program consists of nine individual half-day sessions attended by a competitively selected group of 16 emerging architects defined by the program as design professionals who have graduated from an architectural degree program and are within 10 years of their first licensure. All participants underwent an application process to validate their career success, community involvement, and support of their home firm. The program is a highly engaging, hands-on experience for the top talent in Puerto Rico, and its success is directly related to the attendance and wonderful contributions of the participants. The scholars selected for the leadership program are responsible for planning and participating in each individual session. Meanwhile, this program contributes to the AIA CE credit requirement. We are excited to include 5 of our incredible team members, who will use the opportunity to further their deep design skills, coupled with an exploration of industry best practices to benefit our projects and client relationships. The program curriculum focuses on core skills such as Marketing and business development, Office and firm management, Presentation and public speaking, Professional ethics and the law, Philanthropy and board involvement, Community service, Industry trends, and the future of the practice locally and internationally.
The CKLD program is not only based on a wonderful vision for the future but also on a beautiful legacy. Christopher Kelley, AIA was an active member of the DC architectural community and suddenly passed away in May of 2012. He was a respected leader within the Institute as well as within Gensler's Washington office. Through his volunteer efforts, Kelley participated and contributed to initiatives and programs with a positive impact on emerging professionals at different stages of their careers.  In 2010 Christopher was honored with the AIA Young Architects Award for which the jury stated, "Christopher has proven himself a young leader within and around the AIA, a real example for other young professionals." This program is intended to continue his gift of leadership and activism. Beginning in 2013, the AIA|DC chapter undertook an initiative to develop a program that would help train and nurture the next generation of leaders. The first 16 scholars were selected in July 2013, and the Christopher Kelley Leadership Development Program is completing its ninth year with great success in several AIA chapters throughout the nation. 
Please join us in congratulating our team, and look forward to more wonderful milestones as we continue to grow as one of the leading architecture firms in Puerto Rico. Explore some of the most notable projects in our Portfolio.