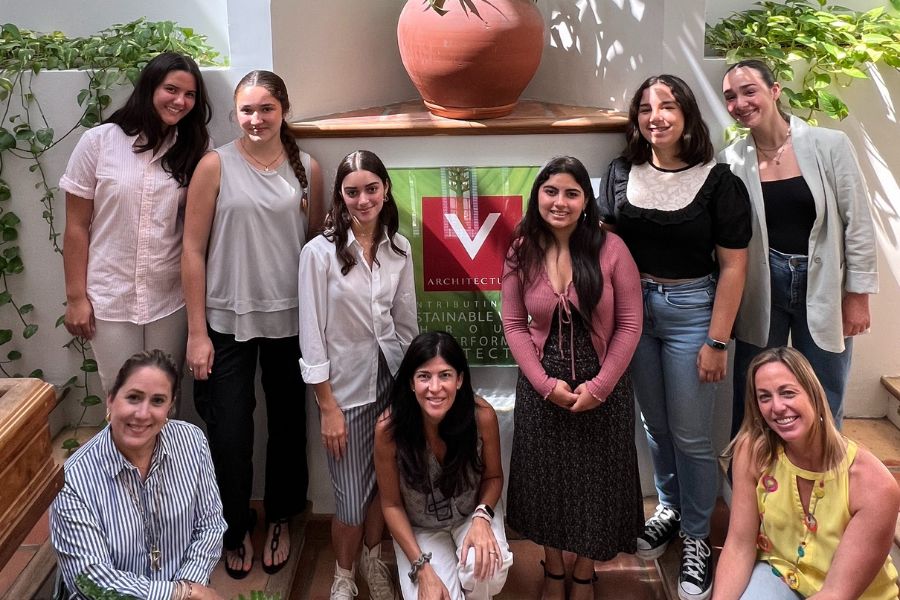 V Architecture's Mentorship Program Empowers High School Students in the Realm of Architecture
V Architecture has long been dedicated to sharing our passion for architecture with high school students through our impactful Mentorship Program. For over eight years, our collaboration with Academia María Reina (AMR) has been a cornerstone, facilitated by their exceptional Mentorship Program led by the Alumni Office. This program connects motivated students with AMR alums who have excelled in various industries, providing invaluable mentoring to those pursuing their chosen fields. Excitingly, this year marks an expansion of our Mentorship Program to encompass additional high schools in the metro area. The participation of students from Colegio Marista, Colegio San Antonio, Academia Perpetuo Socorro, Commonwealth School, and Academia María Reina has resulted in 13 students benefiting from over 250 hours of mentoring.
"I don't think you can teach architecture. 
You can only inspire people."
– ZAHA HADID
At V Architecture, we firmly believe in the transformative power of mentoring. While our students have previously experienced Pre-College programs that introduce them to the academic aspect of architecture, our Mentorship Program takes them further, offering an insight into real-world architectural practices. They engage with our daily operations, meet over 20 of our exceptional architects, partake in design sessions, attend client meetings, and even venture to construction sites. This comprehensive exposure enables students interested in architecture, engineering, interior design, art, and other related fields to explore various avenues and make informed decisions before embarking on their academic journey.
Heading our Mentorship Program are accomplished individuals who lead by example: our President and Managing Principal, Ilia Ríos (AMR 1991), Senior Architect and Sustainable Design Manager Jessica Díaz (AMR 2000), Senior Project Manager Rebecca Irizarry (AMR 1996), and Architect and Design Manager Anaida Ríos (AMR 2012). Their dedication and guidance steer the program, fostering a nurturing environment for students to flourish and make informed career choices.