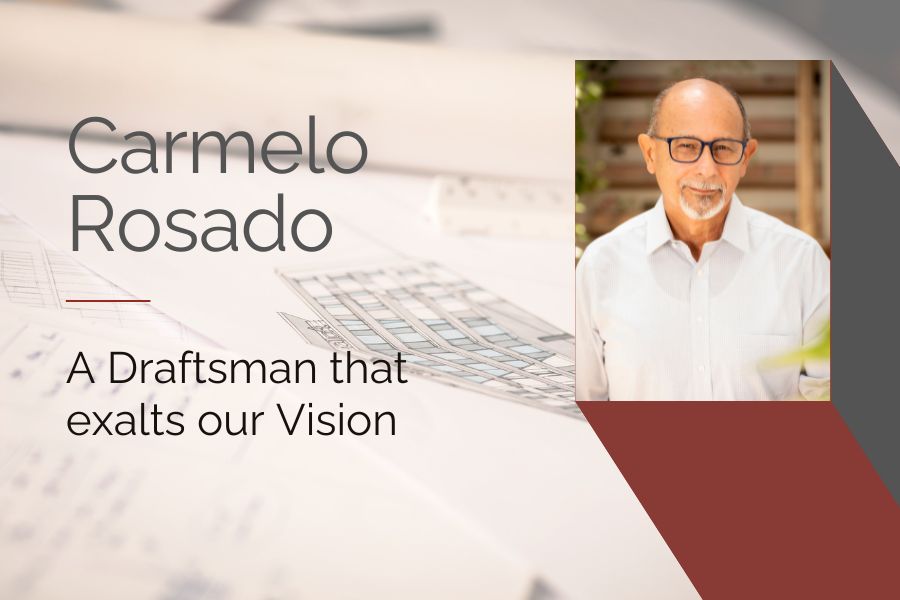 Shaping Dreams: Honoring Carmelo's Dedication During Draftsperson Week
At the heart of the architectural industry, Draftsmen and Draftswomen hold an indispensable role in translating intricate designs into actionable plans. At V Architecture, we're fortunate to have two skilled draftsmen, Carmelo Rosado and José Martínez, who exemplify the precision and attention to detail that define their craft. As Puerto Rico celebrates it's annual Draftmen/Draftwoman week ('Semana del Delineante'), we take a moment to pay heartfelt homage to Carmelo, a dedicated member of our team for an impressive 43 years.
"Carmelo was the first employee (actually a loyal partner) when we embarked on this journey. At 34 years old, he had the courage to venture and join us at a time when we only had the prospects of our tenacity and eagerness to give our best and create a collective future. Carmelo was always loyal and the mentor who taught all of us who have collaborated in the following 43 years what it means to be the best professional. We all owe a lot to that pillar,"
Founding and Senior Principal, José A. Rodríguez Barceló. 
Carmelo's unwavering commitment, loyalty, and expertise have not only played a pivotal role in shaping the growth of V Architecture but have also underscored the vital role of draftsmen in realizing architectural visions. As we celebrate Carmelo's remarkable journey, we acknowledge the profound contributions of draftsmen like him, who transform architectural concepts into tangible reality. ¡Gracias!