V is for Vision – Caribbean Business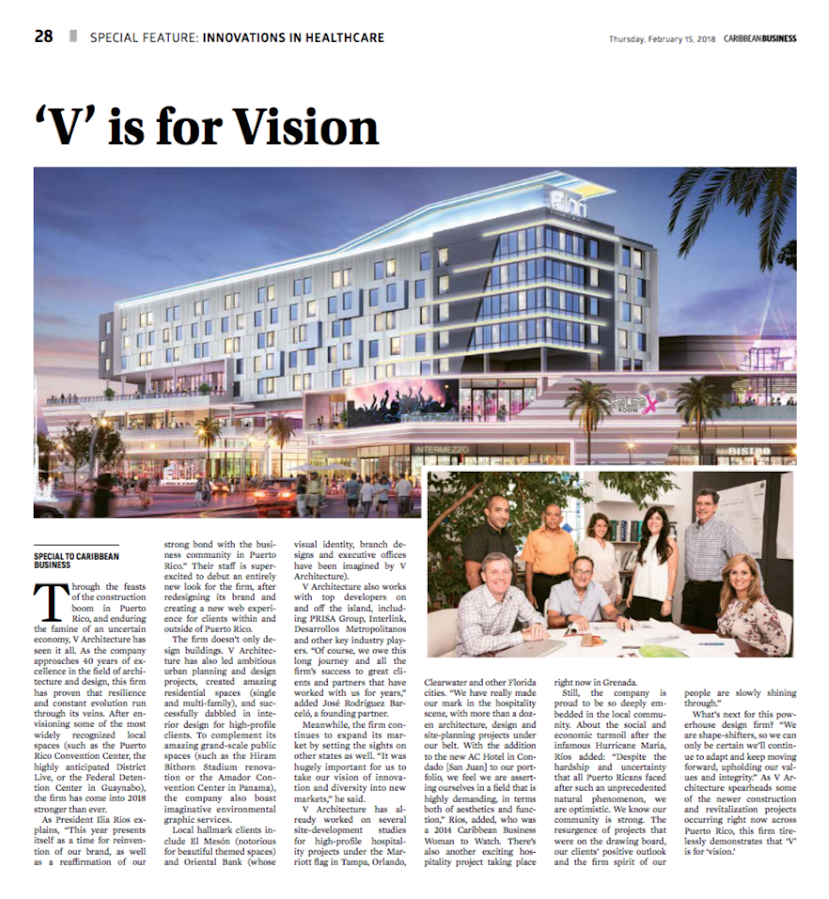 This awesome article was published in the February 15th edition of Caribbean Business.
'V' is for Vision
Through the feasts of the construction boom in Puerto Rico, and enduring the famine of an uncertain economy, V Architecture has seen it all. As they approach 40 years of excellence in the field of architecture and design, this firm has proven that resilience and constant evolution run through their veins. After envisioning some of the most widely recognized local spaces (such as the Puerto Rico Convention Center, the highly anticipated District Live, or the Federal Detention Center in Guaynabo), the firm has come into 2018 stronger than ever.
As President Ilia Rios explains, "this year presents itself as a time for reinvention for our brand, as well as a reaffirmation of our strong bond with the business community in Puerto Rico." Their staff is super excited to debut a whole new look for the firm, after redesigning their brand and creating a new web experience for their clients in and out of Puerto Rico.
The firm doesn't only design buildings. They have also led ambitious urban planning and design projects, created amazing residential spaces (single and multi-family), and successfully dabbled into interior design for high-profile clients. To complement their amazing grand-scale public spaces (such as the Hiram Bithorn Stadium renovation or the Amador Convention Center in Panama), they also boast imaginative environmental graphic services. Local hallmark clients include El Mesón (notorious for some of their beautiful themed spaces) and Oriental Bank (whose visual identity, branch designs and executive offices have been imagined at V Architecture).
They also work with top developers in and out of the island, including Prisa Group, Interlink, Desarrollos Metropolitanos, among other key industry players. "Of course, we owe this long journey and all of the firm's success to great clients and partners that have worked with us for years," added José Rodríguez Barceló, one of the founding partners.
Meanwhile, the firm continues to expand their market by setting their sights on other states as well. "It was hugely important for us to take our vision of innovation and diversity into new markets." V Architecture has already worked on several site development studies for high-profile hospitality projects under the Marriot flag in Tampa, Orlando, Clearwater and other Florida cities. "We have really made our mark in the hospitality scene, with over a dozen architecture, design and site planning projects under our belt. With the addition to the new AC Hotel in Condado to our portfolio, we feel that we are asserting ourselves in a field that is highly demanding – in terms both of aesthetic and function," added Ríos (one of our 2014 Women to Watch). There's also another exciting hospitality project taking place right now in Granada.
Still, they are proud to be so deeply embedded into the local community. About the social and economic turmoil after the infamous María, Ríos added, "in spite of the hardship and uncertainty that all Puerto Ricans faced after such an unprecedented natural phenomenon, we are optimistic. We know our community is strong. The resurgence of projects that were on the drawing board, the positive outlook of our clients, and the firm spirit of our people are slowly shining through."
What's next for this powerhouse design firm? "We are shape-shifters, so we can only be certain that we'll continue to adapt and keep moving forward, upholding our values and integrity." As V Architecture spearheads some of the newer construction and revitalization projects occurring right now across Puerto Rico, this firm tirelessly demonstrates that 'V' is for 'vision'.