Aloft San Juan is Now Open!
V Architecture is incredibly excited to announce that the new Aloft San Juan Hotel is now open, as part of the highly anticipated El Distrito San Juan Complex, developed by Prisa Group and envisioned by V Architecture. "San Juan is a vibrant destination, filled with exciting entertainment, rich history, and captivating art, all which ignite the self-expressing Aloft traveler to explore and create," Christian Nieves, Aloft San Juan's general manager, said in the release. The property's flexible event spaces were designed for large trade shows and company conferences, as were the open spaces and terraces overlooking the fountains of the Convention Center as an ideal environment for social events.
"Aloft San Juan is one of the anchor properties of El Distrito and the first to open, thus highlighting the importance that El Distrito has for the Puerto Rican tourism industry. Its modern and avant-garde design and its vibrant social environment add variety to the local hotel offer, as it is designed to meet the new generation of travelers," added Federico Stubbe Jr., president of PRISA Group and developer of Aloft San Juan and El Distrito. "Aloft will be the hotel for next-generation travelers and locals looking for a fresh vibe, all integrated into the spirited environment that El Distrito will offer."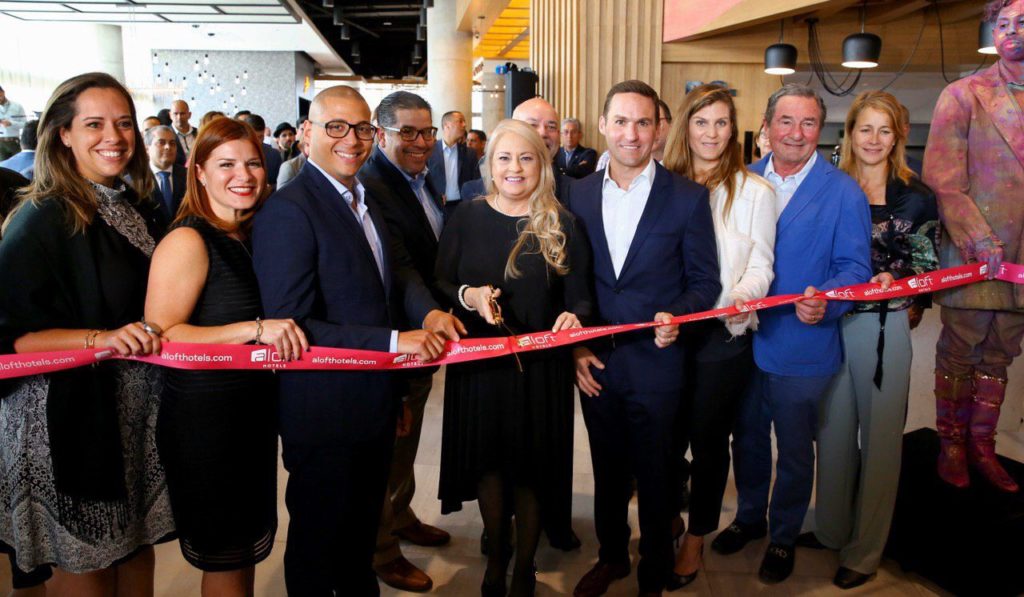 The hotel is one of the anchor properties of El Distrito and the first to open in the 50,000 square-foot entertainment district's central plaza. The plaza will feature a "digital scenery system" composed of more than 14,000sf of LED screens, including one of the largest horizontal screens in the United States, where content such as art, nightly fireworks, social media feeds and sports events are displayed. Incorporating high-wire rigging, hologram effects, and other cutting-edge features, the outdoor, roofed Plaza will be flanked by two outdoor bars and anchored by a center stage for public performances with daily programming.
The new hotel also features the brand's W XYZ Bar, located next to the lobby offering cocktails and "light bites." During the day, the bar serves as a space for "working and networking," and at night becomes a live music venue hosting the brand's Live At Aloft Hotel program for emerging artists to perform. Guests can exercise at the 24/7 Re:charge fitness center or relax in the pool located on the third level of the hotel.
SEE THE PROJECT CASE STUDY HERE
Thanks to our amazing staff for making this great project possible. Learn more about the Aloft opening below: