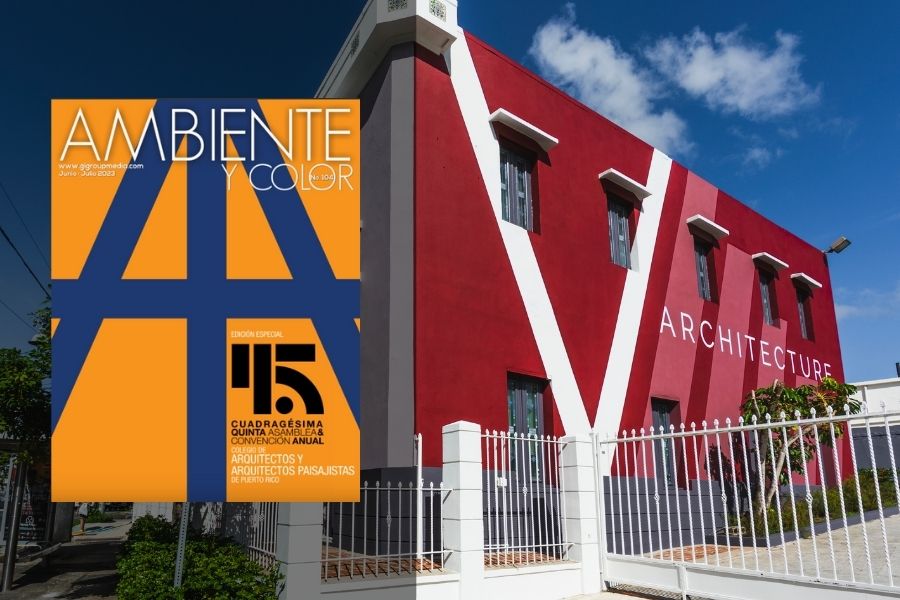 Shaping the Architectural Landscape of Puerto Rico for 45 Years: CAAPR's Celebration of Foresight & Commitment
Did you know our very own José Rodríguez Barceló, founding partner of V Architecture, had the honor of signing the Constituent Charter of the Puerto Rico Society of Architects and Landscape Architects (CAAPPR) back in 1978? This milestone marks the CAAPPR's journey towards promoting excellence in architecture and enhancing the quality of life in our beloved island.
Recently, the CAAPPR commemorated its 45th anniversary with great enthusiasm. As part of this momentous occasion, Ambiente y Color Magazine, the First Latin American magazine of architecture, design, decoration, and tourism, dedicated a special edition to celebrate the society's trajectory. This edition featured an image of the original charter, a testament to the enduring legacy of our architectural heritage.
V Architecture takes immense pride in being among the top echelon in the architecture and design community in Puerto Rico. Since our establishment in 1980, we have served companies of all sizes, crafting visionary spaces that blend innovation and sustainability. "I have seen a lot of changes but being able to combine expertise and innovation has been one of the greatest benefits of working at V Architecture," expressed Rodríguez Barceló.
Our firm's unwavering commitment to the architectural field has helped shape the local industry, inspiring a generation of professionals and contributing to the vibrant urban environment we cherish. As managing principal of V Architecture, Ilia Ríos expresses, "It's such an honor to work alongside capable and experienced professionals who have gone the extra mile to give shape and structure to our local industry." The collaboration of expertise and innovation has been at the heart of our success, guiding our mission to transform spaces and uplift communities.
The CAAPPR has been a powerful advocate for Puerto Rico's architectural and urban development. From challenging issues surrounding the Tren Urbano project to preserving iconic landmarks like the Hotel La Concha, the society's efforts have been an accurate and forceful voice, shaping the urban landscape for the better.
Looking forward, V Architecture remains dedicated to advocating for innovative, sustainable design that elevates our surroundings while creating a positive impact on the environment. Together with CAAPPR, we envision a future where architecture continues to be a driving force for progress and prosperity.
We extend our heartfelt congratulations to the CAAPPR on this momentous milestone and look forward to shaping the vision of many more clients, creating spaces that embody our shared passion for excellence and progress. Here's to 45 years of architectural brilliance and a future filled with creativity and possibilities! Explore the full magazine here.