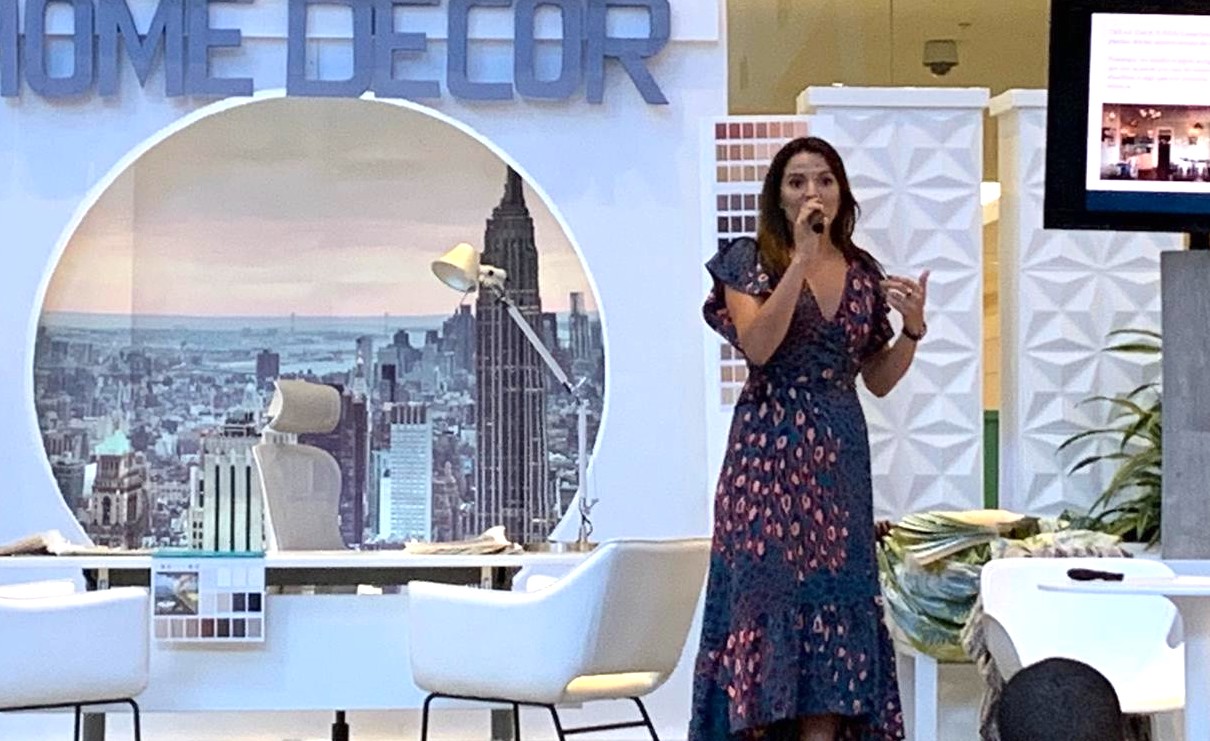 Restaurant Design: Creating an Unforgettable Experience by Aurimar Ortiz
During this annual Interior Designer's Week: Pabellón del Interiorismo 2019, hosted in Plaza las Americas, V Architecture's in-house Interior Designer, Aurimar Ortiz was invited by the Colegio de Diseñadores y Decoradores de Puerto Rico (CODDI) to present what makes a restaurant design not only uniquely appealing to the eye but also functional and highly profitable.
"It's the experience that is created while interacting inside a well-designed space, that leaves us with a long-lasting memory worth sharing with others."

– Aurimar Ortiz, Interior Designer CODDI
Concept Development: From concept development to material and furnishing selection, Aurimar described exactly what sets a restaurant apart in the very competitive Food and Beverage Industry. "Clients are no longer just looking for great food and drinks. Now, they want the whole package; a sensorial experience they can share and relive with others time and time again." As explained by the interior designer, the best way to begin the concept development for a restaurant is to listen and study well the restaurant owner's vision and then use that to create a unique experience that will keep customers coming back for more. Aurimar explained how through the use of functional space distribution, correct material selection, proper lighting, appropriate furniture, and the very important acoustical factor; interior designers can create a space which is not only appealing to the client but also profitable for the owners and a place employees will enjoy to work in.
"The trick is to take all senses into consideration and with this, create emotion in a space. What the client will see, hear, come in contact with and feel is just as important as what they will taste and smell during their visit."
Materials: When materials are selected for a restaurant, many factors must be taken into consideration; the application, what the material transmits to the client, but also the safety and durability. Durability is a very important factor when designing a commercial space because this makes sure the client's investment is being properly used. Materials such as ceramic tile, woods, and plastics all have different effects on how the dinner perceives and interacts with the space. Colors also play a major factor. In restaurant design, colors can be used to stimulate the appetite and make clients want to stay longer, therefore consuming for longer periods of time. While other colors can diminish the appetite.
Lighting: Proper lighting can give a space a comfortable ambiance while the incorrect lighting can make dinners want to leave the restaurant quicker. Warm, yellow tone lighting can soothe a dinner, inviting them to enjoy cocktail hour, while bright, white lighting can make a dinner feel overstimulated, exposed and tired.
Acoustics: Poor acoustics in a space can be a loud situation that leaves dinners with a less than desirable experience. Restaurants are places where people go to socialize, converse and share. Therefore, being able to speak in a normal tone and hear the people you are with is a very important part of the experience. Acoustical materials such as upholstered or felt panels, ceiling baffles, upholstered seating, and even plants can help diminish unwanted noise reverberance.
Furniture: The correct furniture will take into consideration various factors; budget, material selection, fabric selection, water, and stain repellant treatments, comfort, back height, durability, and warranty. Safety is most important when it comes to specifying restaurant furniture. Chairs must be guaranteed to hold a certain weight and contract guarantees can ensure the durability of the paint or fabric. Placing a comfier, wool upholstered chair inside a wine cellar room is a great idea, but placing the same chair in front of a window area or skylight that receives a high amount of sunlight, will make the dinner feel hot and uncomfortable. An interior designer will consider all these factors and work them into the vision of the client. The result will be a well-designed, successful restaurant that will give dinners a unique visit and keep them coming back for more. For more information on how to make your restaurant an unforgettable experience that will set your business apart from others, please contact V Architecture and ask how we can help make your project come to life.