A Unique Vision To Rebuild Puerto Rico – Caribbean Business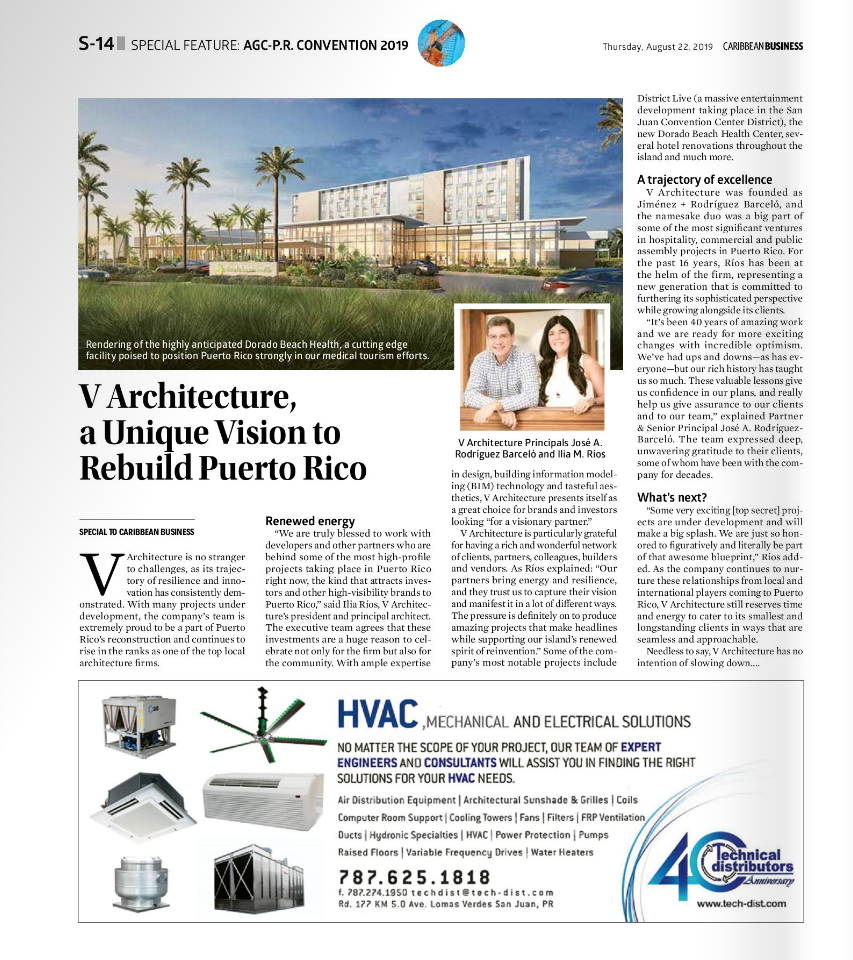 This article was published in the Aug 23rd edition of Caribbean Business.
A Unique Vision to rebuild Puerto Rico
V Architecture is no stranger to challenges, as their trajectory of resilience and innovation has consistently demonstrated. With many projects in development and even more on the boards, their team is extremely proud to be a part of the reconstruction of Puerto Rico and continues to rise in the ranks as one of the top local architecture firms. 
Renewed Energy
"We are truly blessed to work with developers and other partners who are behind some of the most high-profile projects taking place in Puerto Rico right now, the kind that attracts investors and other high-visibility brands to Puerto Rico," adds Ilia Rios, President of V Architecture. The executive team agrees that these investments are a huge reason to celebrate not only for their firm but also for the community. With their ample expertise in design, BIM technology, and tasteful aesthetics, V Architecture presents itself as a great choice for brands and investors looking "for maximum efficiency, but also stylish spaces."
They are particularly grateful for their rich and wonderful network of colleagues, vendors, and partners. As Rios explains: "Our partners bring energy and resilience; and they trust us to capture their vision and manifest it in a lot of different ways. The pressure is definitely on to produce amazing projects that make headlines while supporting our Island's renewed spirit of reinvention." Some of their most notable projects include The District (a massive development taking place at the Convention District in San Juan), the new Dorado Beach Health Center, several hotel renovations throughout the Island and much more. 
A Trajectory of Excellence
V Architecture was founded as Jiménez + Rodríguez Barceló, and the namesake duo was a big part of some of the most significant ventures in hospitality, commercial and public assembly projects in Puerto Rico. For the past 20 years, President and Principal Architect Ilia Ríos has been at the helm of the firm, representing a new generation that is committed to furthering their sophisticated perspective while growing alongside their clients. 
"It's been 40 years of amazing work and we are ready for more exciting changes with incredible optimism. We've had ups and downs – as has everyone – but our rich history has taught us so much. These valuable lessons give us confidence in our plans, and really help us give assurance to our clients and to our team," explains Partner and Senior Principal Jose A Rodríguez-Barceló. In their interview with CB, the team expressed deep, unwavering gratitude to their clients, some of whom have been on for decades. 
What's next?
"Some very exciting (top secret) projects are in development and will make a big splash. We are just so honored to figuratively and literally be part of that awesome blueprint," adds Rios. As they continue to nurture these amazing relationships from local and international players coming to Puerto Rico, they still set time and energy to cater to their smallest and most intimate clients in a way that's seamless and approachable. 
Needless to say, V Architecture has no intention of slowing down…